Beaches
Tobago has its fair share of magnificent and picturesque beaches. White sand and aquamarine water border our shores, the choice is yours! Whatever your needs, we are confident that we have a beach for you. From diving to family time, our beaches are worthy of Instagram and perfect for postcards!

Bird Watching
Few places in the world offer such a wide variety of bird species in such a small area. Bird watching in Tobago is a fantastic activity for amateurs and enthusiasts. This family oriented activity combines outdoor exploration with a passion for nature. With over 400 species of birds, some unique to Trinidad & Tobago, there will never a dull moment.

Snorkeling
Dive into aquamarine water that is a stone's throw away from the villa. Explore the unique ocean ecology with family and loved ones, learn about what lies beneath the waves and be amazed. Coral reefs in Tobago offer a complete theatrical show as fish and other animal species display a kaleidoscope of colour. Escape to a new and exciting world through snorkeling.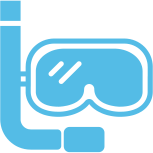 ATVs
Need an adrenaline rush? Then look no further because we can provide access to ATV rides in Tobago! Feel free to take family and friends out for a day of adrenaline and excitement. This unique experience takes you away from the traditional island vacation and adds excitement to your schedule!
Watersports
Water sports combine pristine Caribbean water with adrenaline filled activities! Join us as we prepare various water sports that are guaranteed to keep your friends and family thrilled under the Caribbean sun. Feel free to ask us about water sports that interest you and we can make the necessary accommodations.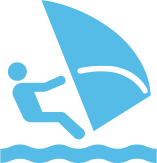 Hiking
Hiking enthusiasts, rejoice! From easy to advanced, Tobago has numerous trails that traverse the entire island. Connect with nature and build up a true sweat while exploring this island paradise. Hiking is a true introduction to the tropics and a fantastic activity that builds relationships with family members and loved ones.